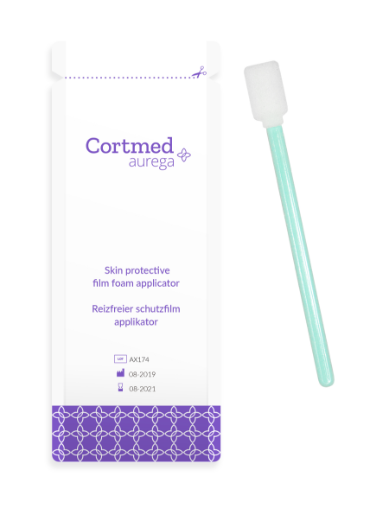 Aurega Skin Barrier Foam Applicator

Aurega Skin Barrier Foam Applicator is a delicate and soft-touch applicator impregnated with a silicone-based formulation, which creates a protective barrier on the skin for a period of 48-72 hours.
The applicator is designed to ensure accurate and hygienic distribution of the protective film formulation on the skin around the stoma.
When applied on the skin, the skin barrier dries in seconds, producing a thin and breathable protective layer of film. The newly created protective membrane protects the skin from possible irritation which could occur after leakage of stoma output contact the body. The skin barrier also helps to protect your skin from mechanical damage caused by the continual changing of ostomy bags.
After drying, the skin barrier film provides a suitable surface for the application of ostomy pouches and ostomy baseplates.
The skin barrier formulation is skin-friendly and alcohol-free, thus causing no stinging or irritation when in contact with the skin.
The foam applicators are presented in a carton quantity of 10 units, each packed in an individual satchet.