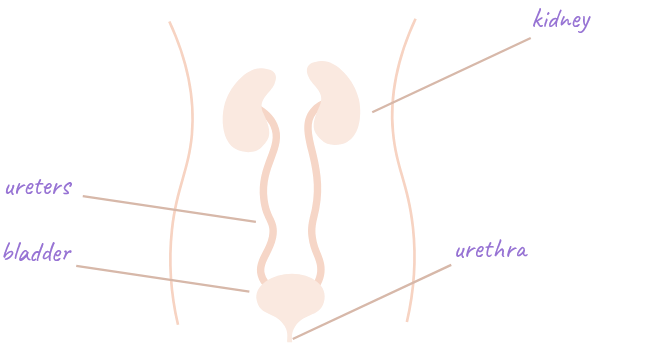 Urinary system
The main purpose of the urinary tract is to remove unnecessary metabolic products from the body through their excretion in the form of urine – while maintaining the appropriate amount and balance of body fluids.
The urinary system consists of the kidneys, ureters, bladder and urethra.
Kidneys are bean-shaped organs of about 12 cm in size each, located on the back wall of the abdomen, on both sides of the spine. The significant role of the kidneys in the human body is demonstrated by the large functional reserve (remaining capacity): in order for serious disorders resulting from impaired renal function to occur, 75% of their normal parenchyma must be destroyed. This means that one properly working kidney is sufficient for the normal functioning of the urinary tract. The ureters are narrow tubes with a muscular wall, within which urine flows from the kidney pelvis to the bladder located in the lower abdomen, which is a reservoir for urine. Bladder filling causes the need to urinate. For micturition (urination) to occur, the urinary bladder contracts and the urine flows out through the urethra.
Blood is delivered to each kidney through the renal arteries, which connect directly to the most important artery of the human body – the aorta. As the renal artery enters the kidney, it branches into smaller and smaller arteries and finally the capillaries. Each kidney is made up of about a million microscopic units, called nephrons. Each of them additionally consists of a glomerulus, the main element of which are blood vessels, serving as a filter for the blood flowing through them. In this way unnecessary metabolic products and excess water are removed from the system – and in the case of poor hydration of the body, water is stopped to prevent dehydration of the body. In addition, thanks to filtration in the kidneys, it is possible to maintain normal concentrations of such electrolytes as sodium and potassium – very important for the condition of the cardiac muscle, calcium, affecting the condition of the bones, magnesium, phosphorus, and many other substances – acids and bases. In this way, the filtered blood is ultimately transformed into urine, which leaves the renal pelvis through the ureters and drains into the bladder.