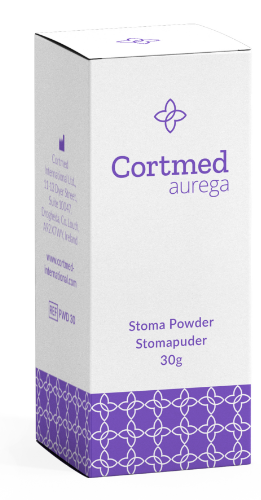 Aurega Ostomy Powder

Aurega Ostomy Powder is a powder blend of hydrocolloids and natural Aloe Vera, which helps to protect skin by providing secure surface for the ostomy flange to adhere properly.
The ostomy powder is intended to protect skin around the stoma by absorbing its excess moisture. In contact with the body moisture, the powder creates a gel surface, which is suitable for the application of ostomy pouches and ostomy baseplates.
The healing properties of hydrocolloid and Aloe Vera help to repair the skin which could become irritated after faecal material or urine contact the body. The Aurega Ostomy Powder is recommended in helping to heal skin complications around the stoma with exudates.
After applying ostomy powder, it is advised to remove the excess powder from the skin surface – too much powder can interfere with ostomy flange adhesivity.
The powder is supplied in an easy-to-apply 30g bottle.