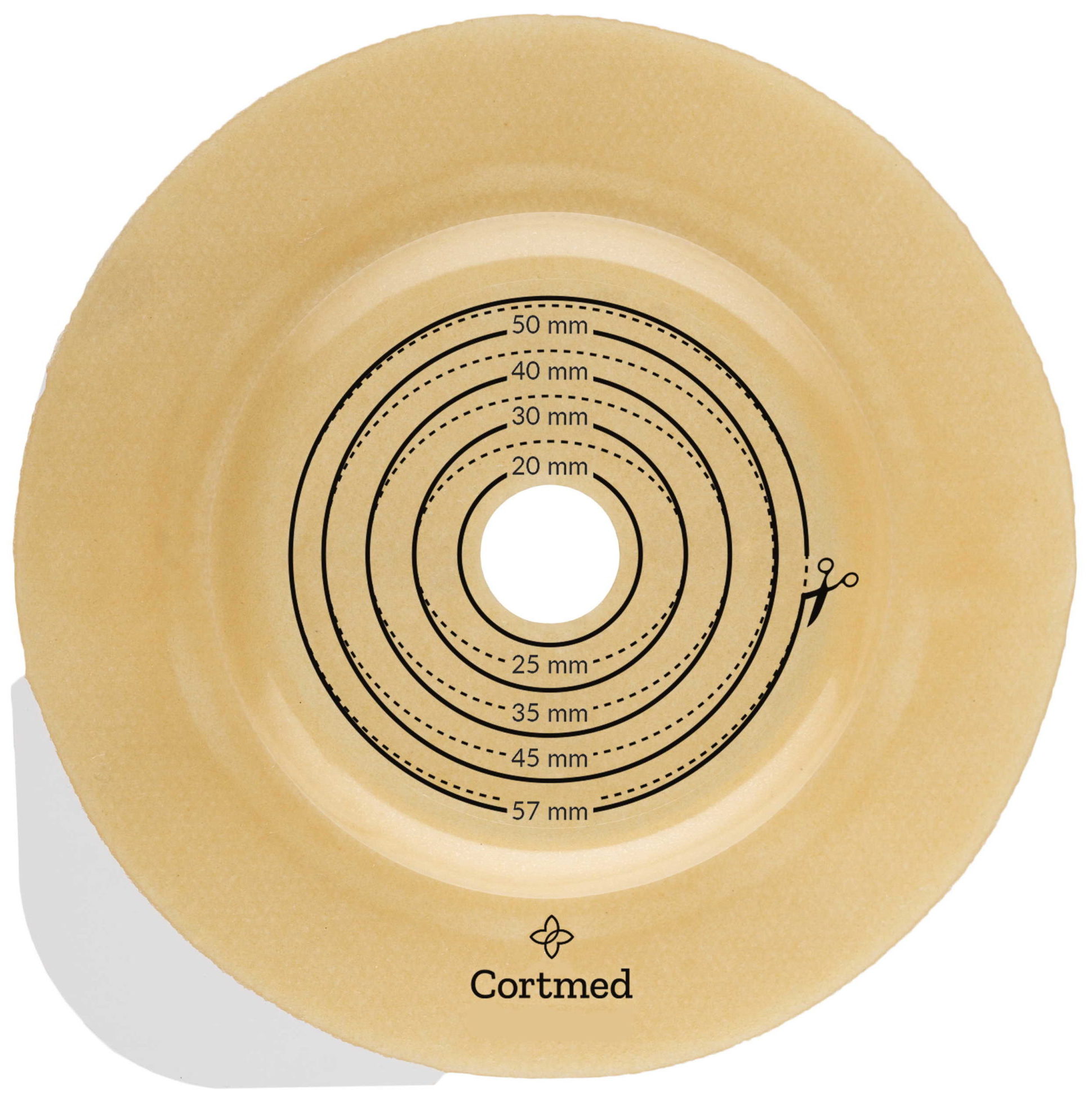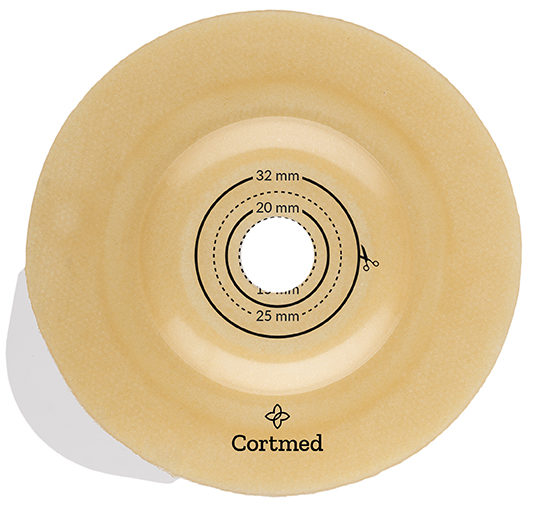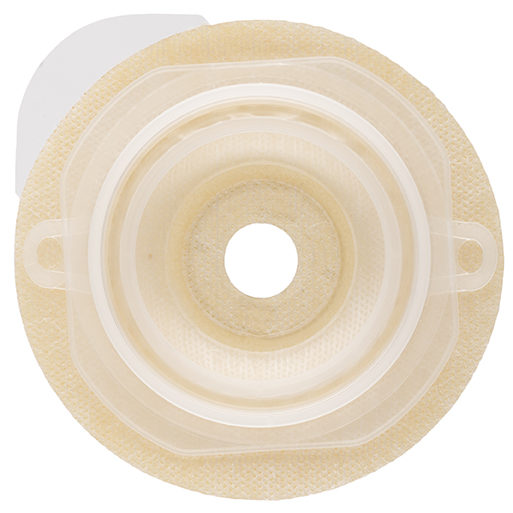 Aurega 2 Convex Light Baseplate
The Aurega 2 Convex Light Baseplate is part of a two-piece system created by Cortmed for people with different types of ostomies. The baseplate's convexity makes is suitable for adults and children with flat or retracted stomas and to help compensate for skin irregularities such as creases or folds. The Aurega 2 Convex Light Baseplate offers extra thinness which translates into higher elasticity and much better adaptation to the uneven skin surface.
Extra elasticity
Aurega Convex Light, thanks to its extremely small thinness, offers improved elasticity and ensures perfect flange adaptation to the irregular skin surface.
Reduction in thickness offers better adherence, which in turn counteracts the leakage of the intestinal contents under the surface of the adhesive. The elastic properties of Aurega Convex Light flange also let it stretch and return to its original shape, following the natural movements of the body.
The convex flange is recommended for ostomates whose stomas are flush to the skin or retracted. Convex curve can also provide sufficient tension to flatten peristomal skin folds, thus creating a flatter surface for flange application.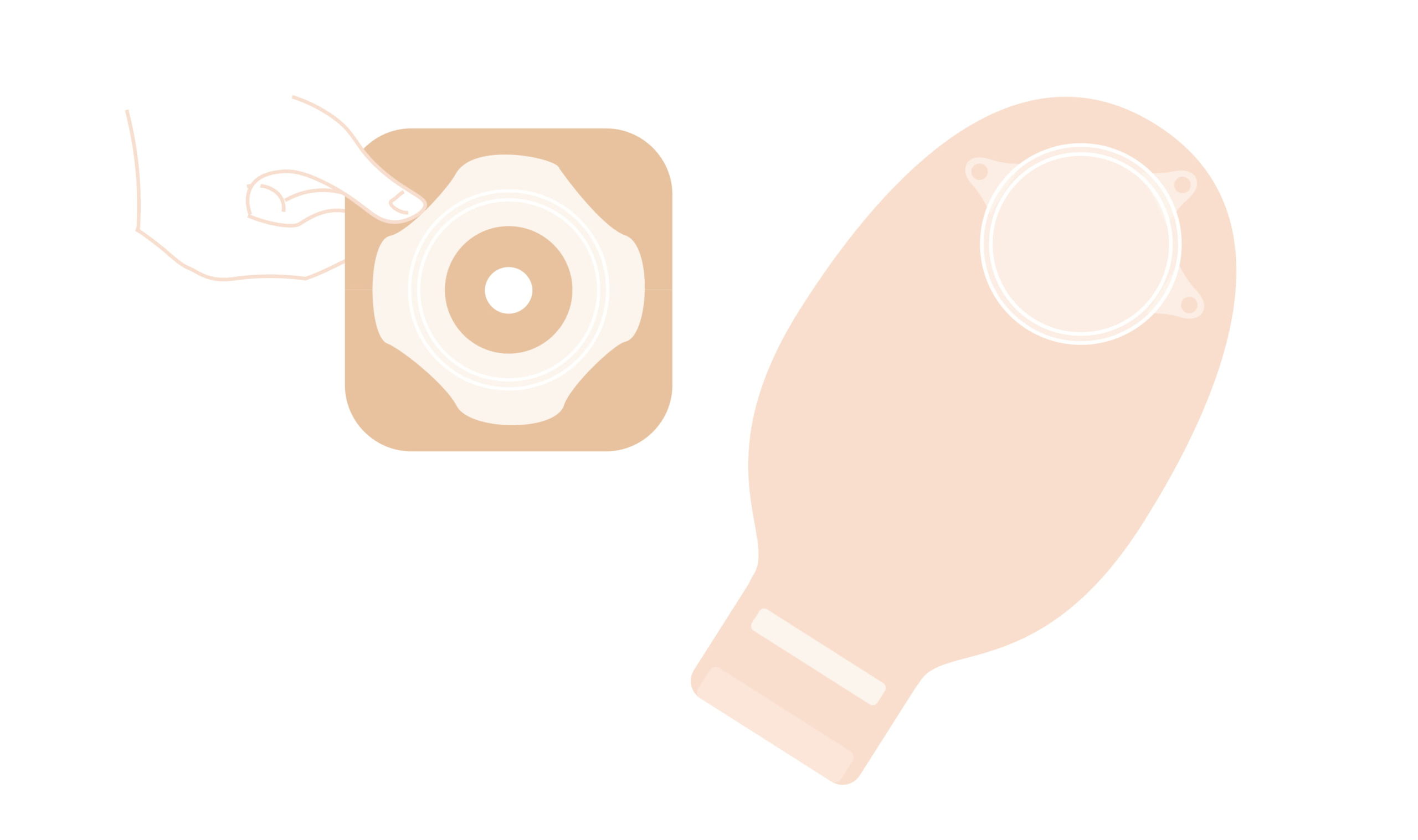 Secure coupling
The attachment of a baseplate to a pouch in the two-piece Aurega 2 system is extremely simple thanks to the coupling locking rings system. Connecting the pouch to the Aurega 2 Baseplate is performed by gently pressing the plastic ring of a bag to the plastic ring of a baseplate until you hear a characteristic click.
The Aurega 2 Baseplate locking ring system holds the pouch securely in place, even in the event of sudden stress, without the need for using stoma strips. The safe and long-lasting connection of the baseplate to a pouch in the two-piece Aurega 2 system allows full freedom in everyday activities without worrying about leaks.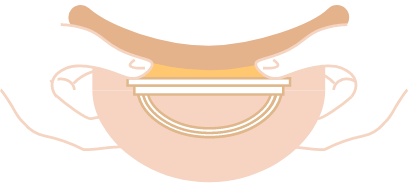 Pressure free fastening
Aurega 2 Baseplates are equipped with a special liftable coupling ring, enabling the pressure-free connection of a two-piece bag to the baseplate. The plastic ring can be easily pulled away from the body, thus creating a free space between the ring and the baseplate flange. This space allows you to insert the fingers of both hands into it and absorb the pressure exerted on the baseplate by the pouch ring that accompanies the connection of the pouch and baseplate in any two-piece system.
The pressure-free liftable coupling ring system in Aurega 2 Baseplates allows painless connection of the two-piece bag to the baseplate. This is extremely important for the daily use of a two-piece system, especially in the case of sensitive or irritated skin – the cushioning of the mechanical pressure, facilitated by the elevated ring, completely eliminates the problem of abdominal pain when attaching the pouch to the baseplate, including in patients who have just had the surgery and whose skin is sore after the stoma creation.